Powering Trust in Your Brand

Powering Trust
in Your Brand


Trust impacts every buyer decision
at virtually every step of the buying process.
While there are some things that you as a website owner can do to help build trust, often the most effective trust-building tools come through 3rd party social proof and online security solutions.
At Trust Brands, our #1 goal is to create the best tools online to help you to establish the highest possible level of trust and transparency with your customers in the shortest amount of time; ultimately setting your brand apart as a trust-leader, and maximizing your customer retention, traffic, loyalty, and sales.
At Trust Brands, our goal is to help businesses increase their revenue by improving their visibility, clicks, and conversions, manage their online and offline reputations and build customer trust.

More Trusted, Verified Reviews
Shopper Approved is a two-time Inc. 500 Award Winner – honored as one of the 500 fastest-growing privately-held companies in America, and has consistently collected up to 10x more ratings and reviews per merchant than all other review companies online. Thanks to our strategic partnerships with Google, Yahoo, Bing, and other major platforms, Shopper Approved not only collects the
most reviews
but also syndicates to the
most locations
online – giving our clients the
most visibility
possible.
We work with all sizes of businesses, from startups to the Fortune 500. We are the only review company online with clients that have collected over 1,000,000 ratings and reviews. And, we are the only review company that collects Merchant, Product and Video Reviews all in the same survey. If you want to truly stand out from your competitors, Shopper Approved is hands-down the best solution on the market today.
Shopper Approved helps increase your online visibility, clicks, and conversions using our unique Seller and Product reviews platform to collect up to 10x more reviews, populated in more places and through our Google partnership and optimized for visibility in paid and organic search result and Seller Ratings.
Click-through rates are increased by on average 17-20% and up to 270% increase in conversion according to industry research.


Protect and Grow
Your Business
Since 2006, Trust Guard has helped to protect 1000's of website owners from hackers. With the groundbreaking launch of Trust Guard® Total Website Protection in 2019, Trust Guard became the first online security company to offer state-of-the-art website protection combined with $200,000 in Cyber Protection, to fully protect both their client's website and their business should there ever be a breach.
As part of the Trust Guard® Total Website Protection plan, every client receives 4 Layers of Protection, which include:

Daily External PCI DSS Perimeter scanning

Daily Internal Heuristic Malware scanning
Auto-Renewing SSL Certificates

$100,000 in Cyber Insurance, and $100,000 in Breach Response Insurance
This combination provides the most effective comprehensive security plan possible for small to medium-sized businesses.

Customers Trust
Local Reviews
LocalReviews.com is the brand that businesses across America trust to collect 5-Star reviews from their customers. Our review collection tools make it easy to collect local reviews and display them on virtually any review site online, putting you in control of your online reputation.
Using the latest SMS (text messaging), MMS (image texting), Short Code technology (texting a keyword to our 32000 shortcode), and Point-of-Sale integration, along with traditional email and QR codes, we are able to create a plan specific to your business needs that will maximize your ability to collect more reviews, get you more traffic, and help your brand to stand out from the competition.
Collect reviews in ways that best fit your local business.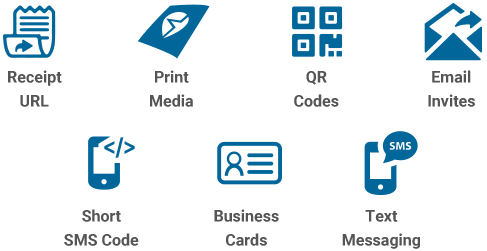 Rescue Lost Sales
Cart Rocket is one of the most effective cart abandonment solutions ever created, and was specifically designed to stop people from abandoning their shopping carts and complete their purchases; even after they've left your website.

Cart Rocket uses a comprehensive 'smart' system, that starts from the very moment a customer visits your site, continues through your product and checkout pages, and then follows them even if they abandon your site – all in an effort to help re-engage their interest, and to motivate them to buy from you.